Home
Dr. John Edwin DeVore offers simple insight that is quite useful in our ambiguous, complex and chaotic world. With patience, contemplation and openness the reader can begin to listen to impeccable, inner messages that unleash the artist within to create a simple, inspired quality of life. Drawing on his background, interests and experiences, coupled with pertinent literature, Dr. DeVore has composed masterful works of art that can blossom the benefits of awareness, morality, core values, leadership, transcendence and inclusion. His work is exemplary because it enables the reader to understand and commit to the "behind the scenes" homework that is essential to create the conditions for peak performance in personal war, sport and life.
Golf as Guru
If you are open and psychologically ready for growth, awakening and trusting the subconscious mind to perform, Dr. DeVore offers simple messages that can become foundational for awareness that simplicity lies on the other side of the individual and collective complexities of golf and life.
"
Golf as Guru
challenges the player to internally and externally explore, enabling evaluation of strengths and weaknesses, nurturing of self-restraint, and evolution of awareness, a quality that differentiates golfers and facilitates, on every shot, the ability to program and trust the subconscious to execute a ball flight toward the intended target."
-Tim Eberlein, MBA, PGA Master Professional
Golfer's Palette
As with all athletic endeavors, the ability to play consistently good golf requires a master's grasp of key fundamentals. As Dr. DeVore enables the reader to soon become aware, patience, study, practice and learning are key to being able to stand over a golf ball, to deliberately quiet the mind and to move a golf club through the ball to a target.
"In my 20 plus years as a PGA instructor, Dr. DeVore was one of the most interesting and knowledgeable students that ever passed through the doors of the Golf Academy of America. It was always special to pick his brain regarding various journeys in life. When he had a story to tell, I listened until the story was complete because I knew he had lived the story. With his experience traveling around the world, working with corporate America, and his love of the game of golf, I know that Golfer's Palette is based purely on his experience and not on a fairytale."
-Gary Balliet, PGA Quarter Century PGA Member, Certified Club Builder and Fitter, Instructor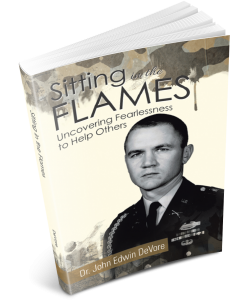 Sitting in the Flames
As reviewed by
New York Times
best-selling author Ellen Tanner Marsh, "In clear, heartfelt prose, DeVore describes a brave and unflinching confrontation with his past, made necessary in order for him to have a more meaningful future. War, he realized, isn't just one man's experience—it's a sum-total experience of an entire country. To stop wars, he argues, we must understand them and why we seem to need them."
"The gut-wrenching brutality experienced by American soldiers in Vietnam was for many the beginning of a lifelong personal struggle. Unlike many veterans, who were unable to cope after returning to civilian life, John DeVore moved with facility from success as an Army officer to success in corporate America. Nevertheless, like many other veterans, the war haunted DeVore and finally—in a process he narrates in this book—compelled him to make a commitment to free himself and our country from the addiction to war."
-Joel Andreas, author of
Addicted to War: Why the U.S. Can't Kick Militarism
.